How to Restart Windows Update if It Does Not Make Download
28/07/2015 · Windows 10 is here, and with it a change that may surprise some home users used to handling Windows updates on their own. Microsoft will not support manual updates on Windows 10 Home PCs. Instead, all... SOLVED: Easily Script Windows 10 to Download, Install and Restart For Windows Updates November 19, 2018 November 19, 2018 Microsoft certainly has been making patching Windows 10 PC's difficult these days but after some significant effort, I have found a simple combination of commands and one free tool does the trick.
How to Shut Down and Restart Computer in Windows 10
1.) Creating a desktop shortcut for Shutdown, Restart, Log-off on Windows 10 Desktop Please use right click on the Windows 10 desktop and select New, Shortcut enter the location:... 21/09/2017 · How to Reset Your Windows 10 PC If you're having problems with your Windows 10 computer and want to reset it then this video is for you. Whether it's malware, corrupt registry, damaged operating
Restart Computer in Windows 10 Tutorials
To Reset Forgotten Windows 10 Password, first, boot the USB to Windows installation page. Press Shift+ F10, and find the root directory using the CD Command. When you find that replace the CMD.exe with utility Manager with Copy Cmd.exe utilman.exe command. how to draw a fist in illustrator To reset Windows 10 password, you will need: 1) A USB drive or black DVD or CD. 2) An accessible Windows or Mac computer or borrow from friend's. 3) iSeePassword Windows Password Recovery program. Step 1 Download Windows Password Recovery on a Normal Computer. The first and the foremost step is to download and install the Windows password recovery tool (Windows version or …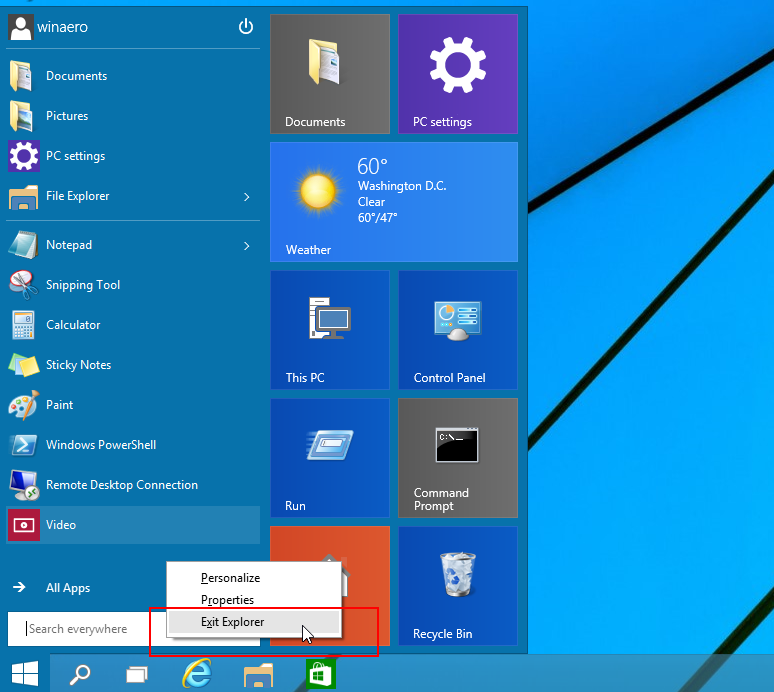 How to Reset Forgotten Windows 10 Password lifestan.com
Professional Windows 10 password reset tool - Renee Passnow (Download now!) Windows PC which can login and work normally ( The Windows version of the computer you are using to create the new password reset disk does not matter .) how to download garmin maps onto sd card 22/11/2016 · This tutorial will show you different ways on how to restart your local Windows 10 PC. This tutorial will apply for computers, laptops, desktops, and tablets running the Windows 10, Windows 8/8.1
How long can it take?
How to Factory Reset a Windows 10 Laptop or Desktop
How to Turn Off Automatic Restart on Windows 10 Appuals.com
How To Reset Windows 10 Store intowindows.com
5 Best Ways to Reset Windows 10 Password without CD or Disk
How to Restart Windows 10 Without Rebooting Laptop Mag
How To Restart A Windows 10 Download
Windows Explorer is the heart of Windows OS and explorer.exe process is the user shell for it. Explorer.exe is used by many utility items like File Explorer, Desktop, Start menu, and taskbar.
16/10/2015 · I have Windows 10 Home, and what I need is the ability to force Windows 10 to ask me "if its Ok to restart the computer", and to not do so until or unless I say Yes. The ability to choose my restart time (that there already is) is not sufficient.
Androidphonesoft Windows Password Recovery is a powerful software utility that can reset any Windows password from Windows XP and Vista all the way up to Windows 10. The software is very simple to use, and all you will need is a second PC and either …
Steps To Restart the Apple Mobile Device Service (AMDS) on Windows 10. 1. First you have to open Windows Services. You can do it in two different ways. OPTION 1. Press Windows+R. Type services.msc and hit Enter to open Apple Mobile Device Service. OPTION 2. 1. Open Cortana. Type Services and select the Services Desktop Application. 2. Now, among the list of services find out …
With this default availability of Start Menu for Windows 10 OS, the task of shutting down Windows 10 or restarting Windows 10 operating system has been simplified to a large extent. In case of Windows 8, the presence of start screen made it difficult for Windows users to carry out the activities like restart or shutdown of the Windows OS.